[Download 100%] – Interesting facts about Viruman Sangeet and Trailer Launch
Interesting information about Viruman Sangeet and Trailer Launch Event held in Madurai.
The music launch and trailer launch of upcoming film Viruman, starring Karthi and produced by actor Suriya, was held at a private wedding hall in KK Nagar, Madurai.
In the ceremony, MP S. Venkatesan, director Bharathiraja, Shankar, Muttiah, actors Surya, Karthi, Suri, Ilasasu, Singambuli, music composer Yuvan Shankar Raja, actress Aditi, Vadikukarsi and others participated.
Since the film is based on the land of Madurai, the crew including Suriya, Karthi, Yuvan Shankar Raja were present at the ceremony in vesti shirts.
Member of Parliament S Venkatesan speaking,
"If any festival succeeds in Madurai, it is a victory for Tamil Nadu. It is a festival organized after Suriya won the National Award. The National Award for him is a late one. Suriya has won the National Award for the film. Man from Madurai It is a matter of pride.
The concern they show in the off-screen community is just as important as that on-screen. Especially those who are more involved in sectors like education and agriculture. Both Surya and Karthi are considered as one of the members of the household in Tamil Nadu. Surya's contribution was significant in providing food to 1.5 lakh people in the Annavasal project in Madurai during the Corona period.
Director Shankar said, "Though the story of Viruman is not known, I believe because it is produced by Suriya. As a person, Suriya is voicing good things like agriculture and education. Karthi too will soon be seen as a national Should get an award. My daughter Aditi Shankar is a great entrepreneur. Fans should nurture her."
Director Bharathiraja said, "The soil of Madurai is famous for its taste. If a film is enjoyed in Madurai, it will be enjoyed all over the world. The film Viruman will also be loved by all. Aditi has done very well in Viruman. Has worked. He has a great future. After Parthaveeran, I am amazed to see Karthik's performance in this film. Karthi is going somewhere in the Tamil film industry.
It was Suriya who taught me how to act in the film Ayudh Akhod. Suriya stood out as Jaybeam despite many hurdles in the film industry. He earns in cinema and makes profit through foundation. I want to use gold like Suriya and Karthi in films, let's see."
Music composer Yuvan Shankar Raja said,
"Thanks to Suriya and Karthi, we have worked together after a long time. I have done a film with Muttiah for the first time. Everyone has acted well in this film.
Karthi and Surya are friends since school. I first song Suriya in Anjaan with my music. I will sing him some more songs. I will soon organize a concert in Madurai."
Director Muttiah said, "It is a great pleasure to organize the audio release of Naan Naman Manil in Madurai. Thank you to everyone who has acted in this film.
Aditi's debut is special in this film. After Karthi Mani Ratnam sir, he has worked in two films under my direction.
There are few down to earth movies that talk about relationships. I wish the director would take an interest in it.
Even though my father told me that only one in a million can be successful in cinema, I ventured into cinema. It is an honor to have my parents on this platform."
Actor Karthi said, "Madurai gave me an identity. Aamir sir made me in this Madurai. I wanted to act in village films, so I acted in another film with Muttiah. I agreed to act in the film as soon as I was told that the father is the villain in the film.
Yuvan was the one who gave me a big identity through Parutiveeran. I have said that this film should be a blockbuster. I am also associated with the production of Annan Surya after Kadakutty Singham. Thank you for the land of Madurai," he said.
Actor Suriya said, "I will always be bound by the love of Madurai fans. I often come to Madurai with Yuvan Shankar Raja. I have had many beautiful experiences in Madurai as well as Coimbatore. There are so many stories around Madurai. These are not stories but reality.
My friend MB Venkatesan, author of Kavalakottam, the novel Velbari and the main symbol of Tamil Nadu, is delighted to come. Venkatesana was able to reflect the views of the people of Madurai. We will be working with them soon.
Also read… ID raids on filmmakers – actor Karthi comments
The name of Aamir, Bala sir cannot be avoided on this stage. Aamir and Bala sir have given the addresses of both of us. Similarly Singhampuli sir is also important to us.
After this Vaadivasal will release. Awaiting proper release. Thanks to the people of Theni district for their support, despite the fact that the shooting took place during the Corona period.
Karthi keeps thinking many times more for cinema. Karthi is a better actor than me. Karthi and Yuvan are brothers.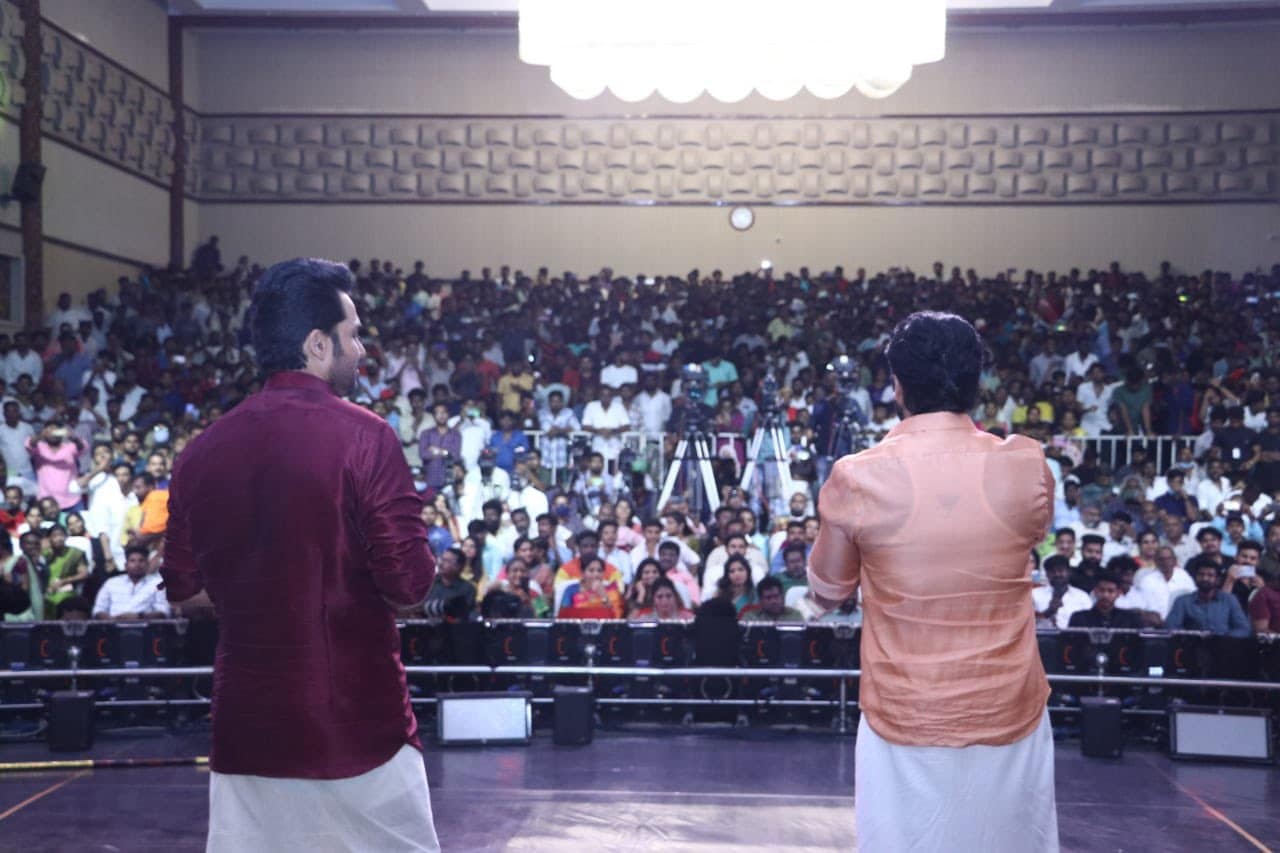 I was abroad when I got the National Award. When I received the award, my fans were the first to celebrate. Madurai is a city that celebrates artists and arts. He said, "Tell me time about the association of Delhi and Rolex." At the end of the ceremony, Suriya took a selfie with the fans and cheered the fans.
@ Follow Google News: Click here to follow News18 Tamil website on Google News page.. Get instant news.
Global to local news (top tamil news, breaking news), latest tamil news, all can be found instantly on News18 Tamil (News18Tamil.com) website.
News18 Tamil Nadu TV can be seen on ARASU CABLE – 50, TCCL – 57, SCV – 28, VK Digital – 30, Sun Direct DTH: 71, TATA PLAY: 1562, D2H: 2977, Airtel: 782, DISH TV: 2977 .